Articles avec le tag 'sales'
Je suis vraiment super content de revenir et d'avoir trouvé une nouvelle boutique en tant que guest. Et il s'agit de la superbe boutique, P&Co (Pixels and Company) ! J'étais ravie de recevoir une réponse de Gennifer ! C'est une réelle opportunité pour moi.
Les derniers mois ont été un peu désastreuse pour moi dans le monde du Digi. Mais maintenant, c'est du passé et une nouvelle porte c'est ouverte à moi !
Pour ma grande ouverture chez P&Co, je vous propose des superbes réductions dans toute ma boutique. Tous mes produits sont à -35% pendant une semaine. Profitez-en !

I'm very happy to come back and to have find a new shop as guest for my products. I was so happy to receive an happy answer from Gennifer ! It's a real opportunity for me.
The last months were so sad for me in the digiland. But now, this is over and a new door has open its doors for me…
For my grand opening I have a huge sale on my shop. You will find all my products 35% off during a week. Enjoy this sale !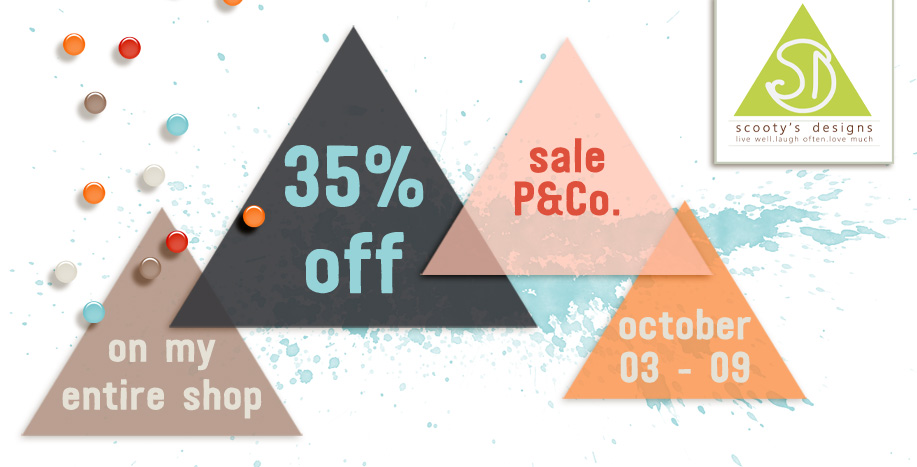 J'ai également créé 2 nouveaux produits avec les couleurs du Company Stash. Il s'agit d'un pack de papiers et d'un pack d'éléments. Mes produits « Inspire me » sont sur le thème de la créativité.
I also have created 2 new products with the colours of the Company Stash. I have in my shop a pack of papers and an pack of elements. These products called « Inspire me » are around the theme of creativity.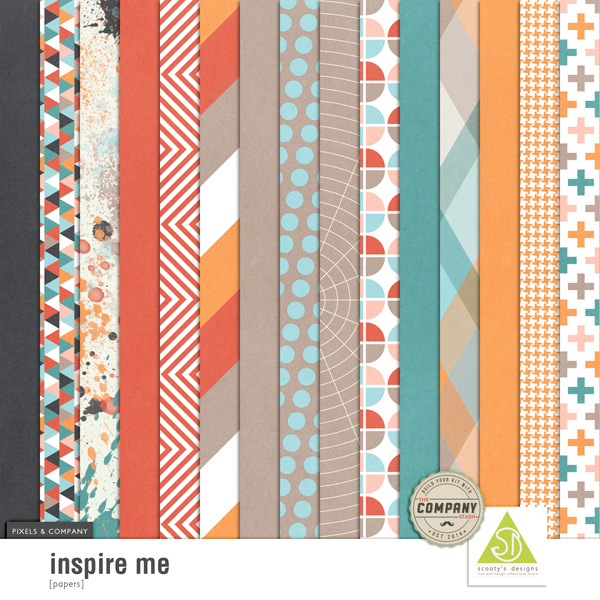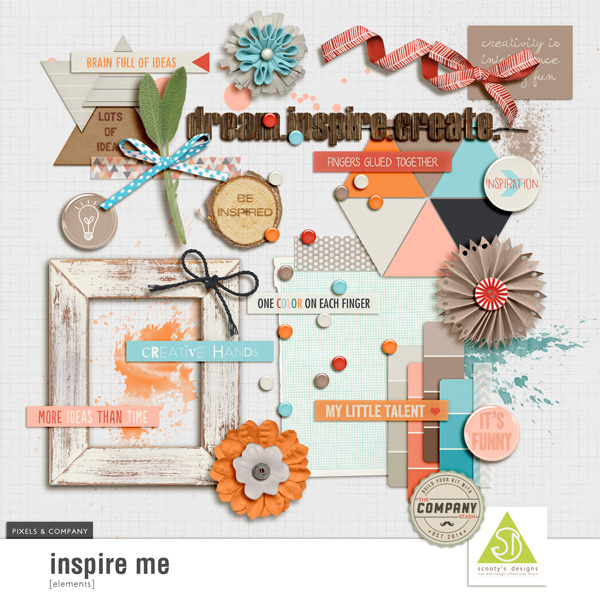 Et comme toujours, un tout grand merci à ma superbe équipe créative !
And as always, thanks to ma gorgeous creative team!
Bon weekend !
Have a nice weekend!
Scooty
xxx
Hello,
Summer is almost over since 2 weeks and we have now a lot a sun here. A have a lot of good news for you.
My new store is now open at The Scrap Nerd and we have a huge storewide sale for it. You can find all my products with 40% off until the end of July !!! All my products will be now only available at The Scrap Nerd.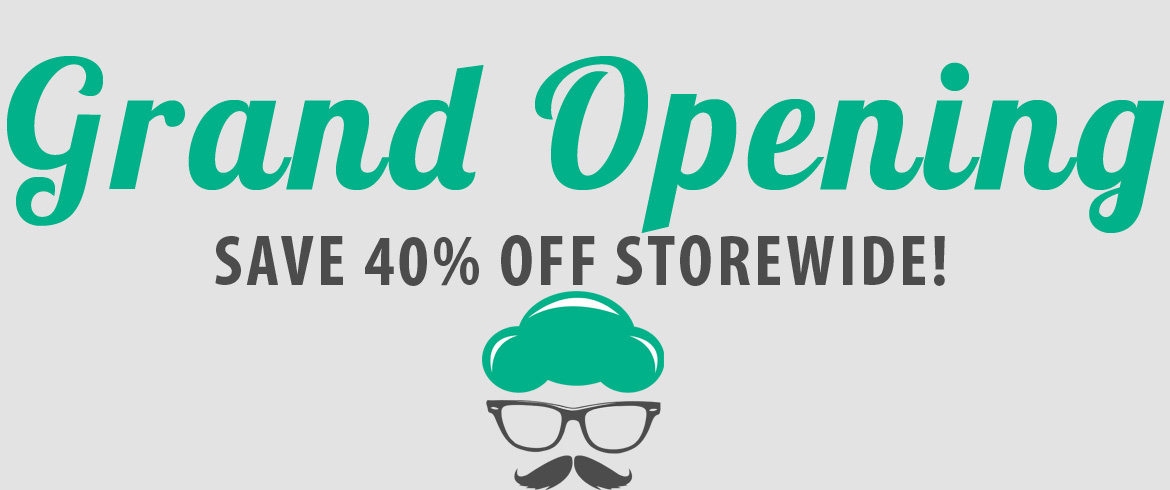 And it's not all, I have 3 new products in the shop.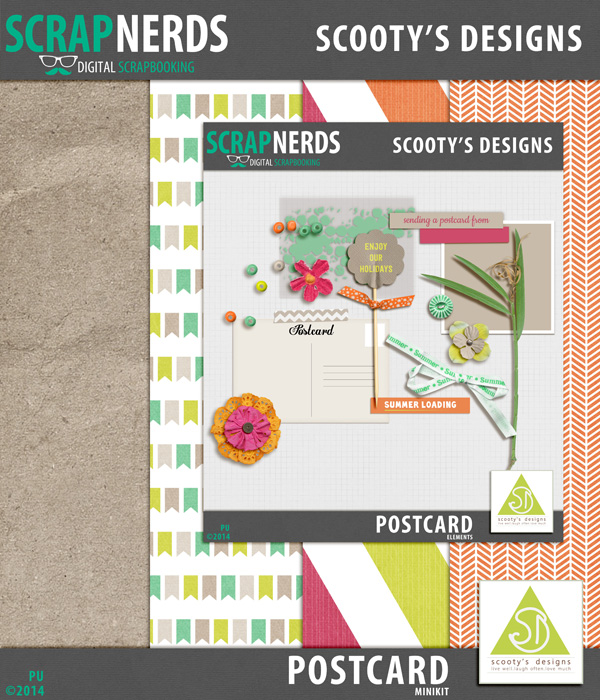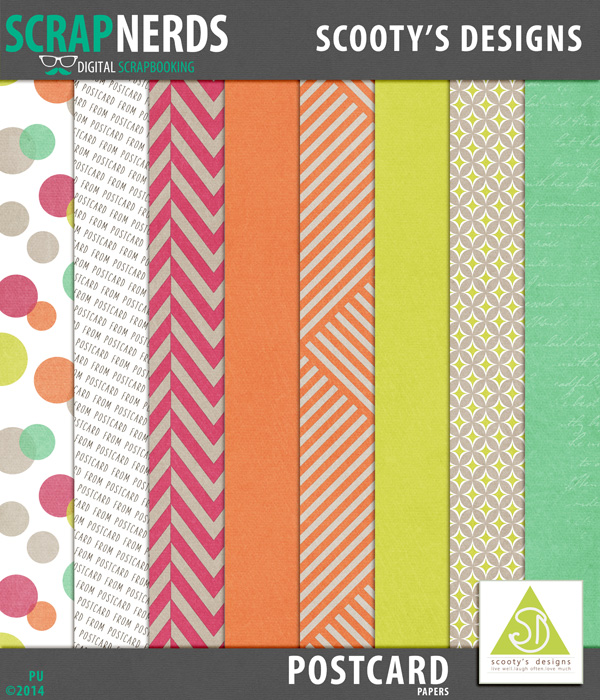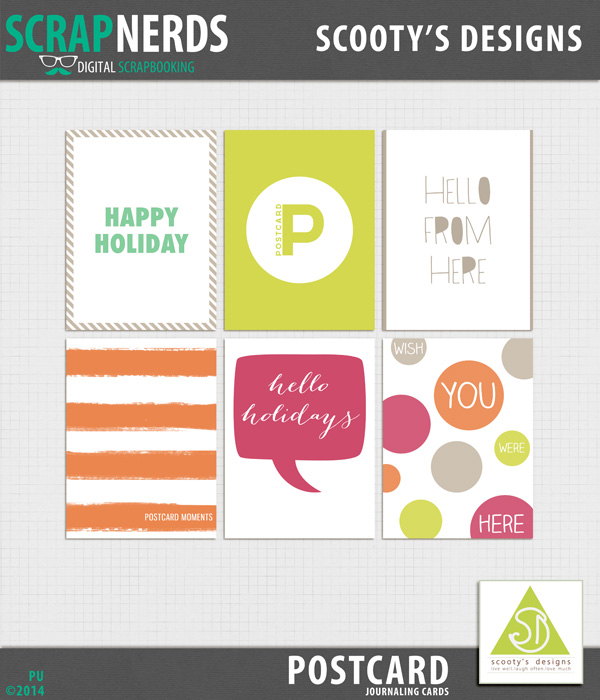 And here some inspiration from my gorgeous creative team ! Thanks girls !
Have a nice and sunny weekend !
Vous adorez le chocolat? Oui, alors ce kit est pour vous ! J'adore le chocolat et j'ai eu envie de créér un kit sur le chocolat. Vous trouverez ce kit à $2.00 durant tout le weekend. Si vous achetez pour $10.00 ou plus dans ma boutique vous recevrez ce kit GRATUITEMENT.

Are you also a chocolate addict ? Yes, so this kit is for you! I love chocolate and I've made a kit around chocolate. You will find this kit at only $ 2.00 during the weekend. And if you spend for $10.00 or more in my shop, you will receive this kit for FREE.
Et voici quelques pages de mon équipe ainsi que de l'équipe créative the PBP !

Some wonderful layouts of my team and also of the PBP creative team !
Bonne journée!
Have a good day !
Le grand JOUR est arrivé ! Je suis très heureuse de vous annoncer que je rejoins l'équipe des designeuses de Pickleberrypop. Pour cette grande ouverture, je vous propose une partie de mes produits à -35%. Je n'ai pas encore tout transféré et je ferai cela petit à petit. Bon shopping à tout le monde !
The big day has arrived! I am very happy to announce that I join the team of the designers at Pickleberrypop. For my grand opening, I have a storewide sale with 35% off. I have not transferred all my products and I will do this gradually. Happy shopping everyone!

Scooty.
J'espère que vous avez passé un joyeux Noël ! Même s'il ne neige pas et qu'il fait plutôt pluvieux et venteux, c'est tout de même une période agréable où on passe des moments en famille ! Durant cette période, je profite de mes enfants et je passe beaucoup de temps avec eux.
Aujourd'hui, c'est un jour particulier car c'est mon anniversaire, une drôle de période car il passe généralement inaperçu… Pour cela, j'ai décidé de faire une promotion sur une grade partie de mes produits. Vous trouverez certains produits avec 40% de réduction. Cette promo dure du 30 décembre au 1er janvier inclus. Bon achat à vous toutes !
I hope you have had a merry Christmas! Even if it does not snow and rather rainy and windy, it's still a nice time to spend moments with our family! During this period, I enjoy spending time with my children and play with them.

Today is a special day because it is my birthday, a funny time because it usually goes unnoticed … For this, I decided to make a promotion on some of my products. You will find products with 40% discount. This promotion lasts from December 30 to January 1 inclusive. Good shopping to you all!
Je vous souhaite à toutes et à tous un « Happy Digital Scrapbooking Day ». Retrouvez dans ma boutique une sélection d'articles à -30% ! Bon achats et merci pour votre soutien !
I wish you all a « Happy Digital Scrapbooking Day ». You will find in my shop a sale at 30% off on some of my products ! Good shopping and thanks to you all !
Comme tout le monde le sait, c'est la fête en France aujourd'hui. Pour l'occasion, 3 de mes produits sont en promo à tout petit prix et seulement AUJOURD'HUI !
As everyone knows, it's party in France today. For the occasion, three of my products are on sale for a low price and only TODAY!
D'autres promotions vous attendent demain !
Bon dimanche.
Other sales await you tomorrow !
Good sunday.
Voici mes produits que vous pouvez trouver dans la boutique à 2.00 € seulement ! Profitez-en car la promo ne dure qu'aujourd'hui !!!
Here are my produits that you will find in the shop at only 2.00 € ($ 2.82) ! Hurry up because the sales is only today !!!
no images were found
no images were found
no images were found