Comme promis me revoici pour une surprise. Durant 3 jours, 15 de mes produits sont à 1.5€, c'est-à-dire jusqu'au 29 septembre inclus. De plus, dans la newsletter de Digital-Créa qui sort ce vendredi 28 septembre, je vous offre un freebie. Et pas un petit cadeau, un pack de 7 templates. Voici ce fameux pack de templates.
As promised I am back with a surprise. During 3 days, 15 of my products are at 1.5 €, so until September 29th. In addition, the newsletter of Digital-Crea coming out this Friday, September 28th, I offer a freebie. And not a small gift, a pack of 7 templates. Here's my famous pack of templates.
Ma petite page avec mes enfants le jour de la rentrée scolaire.
My layout with my children the day of back to school.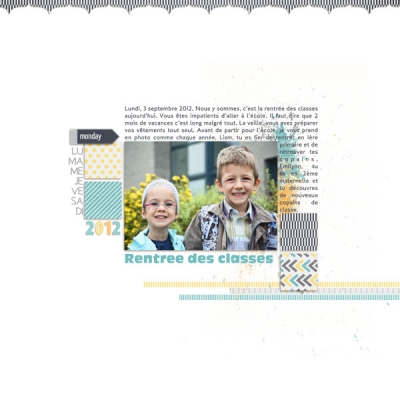 Et voici les superbes pages de mon équipe créative.
And her some beautiful layouts of my creative team.
Je n'ai qu'une chose à vous dire, filez-vous inscrire sur la newsletter de Digital-Créa afin de recevoir ce superbe pack gratuitement.
I have only 1 think to say to you, go to Digital-Crea and subscribe to the newsletter to receive my beautiful pack for free.
Bonne fin de semaine.
See you later.
Scooty.
4 réponses à to "New release | 7 days templates"