Ayant repris tout doucement la création, j'ai également l'envie qui me démangeait de faire des pages de scrap, qui est ma première passion au départ. Mes enfants sont les êtres les plus chers que j'ai avec mon mari. Il y a quelques semaines, ils étaient très coopératifs pour que je puisse les prendre en photos, ce fût de courte durée mais les photos, je trouve, sont réussis même avec une luminosité plus que médiocre. Vous ne les trouvez pas mignons comme ça ?
Having begun again slowly to create, I also wantwhich itched to me to make pages of scrap, which is my first
passion at the beginning. Mychildren are the most important persons of my life which I have with my husband. A few weeks ago, they werevery co-operative so that I can take photographs of them, it was of short time but the pictures, I find, are successful even with a luminosity more than poor. Don't you find them nice, like that?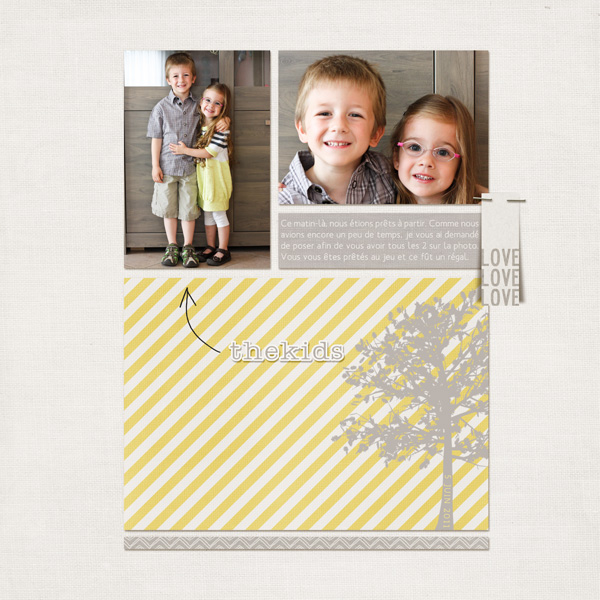 J'ai utilisé le tout dernier kit de Three Paper Peonies « Family Tree », une pure merveille. En fait tout ce qu'elle crée est géniale, je suis une grande fan depuis le début. Vous pouvez vous le procurez chez Mscraps.
I have used the last kit of Three Paper Peonies « Family Tree », a pure wonder. In fact, all what she create is wonderful, I'm a big fan of her since the beginning. You can get it at Mscraps.

Passez un excellent weekend !
Have a great weekend !