A partir de ce mois de juin chez Digital-Créa, nous vous proposons des produits faits par différentes désigneuses sur différents thème mais au départ d'une seule et même palette de couleurs. Il s'agit de la collection « CREATIVE BOX ». Tous les mois vous aurez l'occassion de découvrir et d'acheter ces produits à tout petit prix. Ces produits sont facilement repérable grâce au logo « creative box » ainsi qu'aux 4 coins colorés sur les preview.
Voici donc mes nouveaux produits « A day outdoor ». J'ai réalisé un pack de papiers, un alpha et des journalings cards. Vous trouverez tous ces produits séparément au prix de 1.20 € chez Digital-Créa.
From June at Digital Crea, we offer products made by different designers on different theme but with the same color palette. This is the « CREATIVE BOX » collection. Every month you will have the opportunity to discover and buy these products at a very low price. These products are easily recognizable by the logo « creative box » as well as four colored corners on each preview.
Here are my new products « A day outdoor. » I made a pack of papers, alpha and journalings cards. You will find all these products separately at the price of 1.20 € at Digital Crea.

Regular price 2.00 € | Sale price 1.20 €
Qelques pages d'inspiration de l'équipe !
Some inspiration of the team !
Et voici ma petite page.

And here my layout.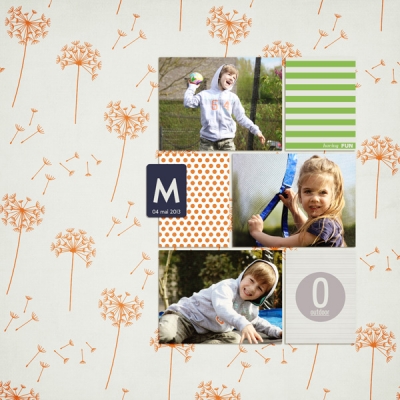 Bonne journée à vous !
Have a good day !
2 réponses à to "New release | A day outdoor [collection]"