Archive pour la catégorie 'Sales'
Durant ces jours d'INSD (InterNational Scrapbooking Day), vous trouverez chez Digital-Créa une réduction de 40% sur une sélection de produits. Je ne vous dis qu'une seule chose, foncez-y et faites vous plaisir !
During these days of INSD (InterNational Scrapbooking Day) you will find at Digital Crea 40% off on selected products. I will tell you one thing, go for it and enjoy!
Je vous offre également 2 freebies. Le premier se trouve dans ma newsletter. Et si vous n'êtes pas abonnés, courrez vite vous inscrire pour le recevoir.
I also offer you two freebies. The first is in my newsletter. And if you've not subscribed, run quickly to register and to receive it.
Le deuxième, vous le trouverez sur ma fanpage. « Aime » ma page pour le télécharger.
The second one, you will find it on my fanpage. « Like » my page to download it.
Je vous remercie toutes pour votre soutien et à très bientôt !
Thank you all for your support and see you soon!
Scooty.
Aujourd'hui, c'est bel et bien le dernier jour de l'année. Mais hier c'était également un jour important pour moi car c'était mon anniversaire. C'est une période assez particulière pour avoir son anniversaire mais c'est
comme ça on ne le choisi pas.
Pour l'occasion, je vous propose 3 belles surprises aujourd'hui. Tout d'abord la première ci-dessous, 50% sur toute ma boutique. Profitez-en, car cette promotion ne dure que 3 jours !
Today, it's indeed the last day of the year. But yesterday was also an important day for me because it was my birthday. This is a rather special period to have our birthday but it's a day we can't choose.

For the occasion, I propose 3 surprises today. First of all, the first one is 50% off on my entire shop. Enjoy, because this promotion only lasts 3 days!
Je reviens plus tard dans la journée pour une 2ème surprise.
I come back later today for a second surprise.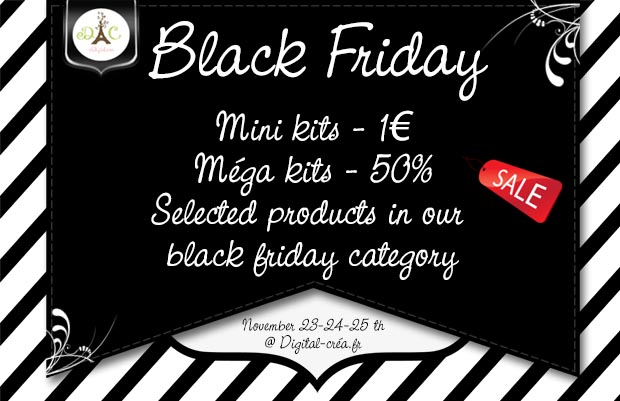 Bonjour à toutes,
Aujourd'hui c'est Black Friday et vous trouverez dès lors pleins de promotions dans ma boutique chez Digital-Créa.  Voici mes produits que vous trouverez à tout petit prix !
Hello everybody,
Today is Black Friday and therefore you will find lots of promotions in my store at Digital-Crea. Here you will see my products who are at a very low price!

no images were found
no images were found
no images were found
no images were found
Bon shopping !
Good shopping !
Bonjour tout le monde,
La plupart des personnes sont en congé aujourd'hui et font le pont. Dommage que le temps ne soit pas au rendez-vous. Je préfère donc rester bien au chaud à la maison aujourd'hui et profiter de surfer sur le pc. Il y a pleins de bonnes affaires à dénicher durant quelques jours sur les boutiques de scrapbooking.
Dans ma boutique, je vous propose une sélection de mes produits à 50% ! Oui vous avez bien vu, à moitié prix. Si vous aviez repéré quelques produits, profitez en car cela ne dure que 3 petits jours !
Hello everyone,

Most people are off today and having a long weekend of 4 days. Too bad that the weather is not with us. I prefer to stay warm at home today and enjoy surfing on my computer . There are plenty of bargains to find during a few days in the scrapbooking shops.
In my shop, I offer you a selection of my products at 50%off ! Yes you saw at half price. If you have spotted a few products, enjoy because it is during only 3 short days!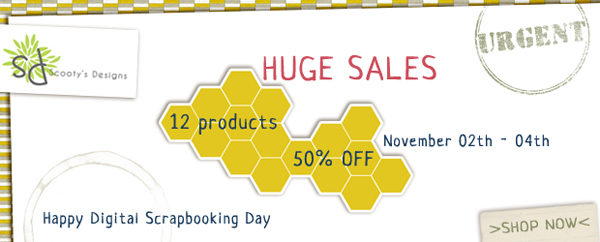 Bon shopping à vous toutes et je vous souhaite déjà un très bon weekend !
Have a good shopping and I wish you all a good weekend !
Scooty.
Comme promis me revoici pour une surprise. Durant 3 jours, 15 de mes produits sont à 1.5€, c'est-à-dire jusqu'au 29 septembre inclus. De plus, dans la newsletter de Digital-Créa qui sort ce vendredi 28 septembre, je vous offre un freebie. Et pas un petit cadeau, un pack de 7 templates. Voici ce fameux pack de templates.
As promised I am back with a surprise. During 3 days, 15 of my products are at 1.5 €, so until September 29th. In addition, the newsletter of Digital-Crea coming out this Friday, September 28th, I offer a freebie. And not a small gift, a pack of 7 templates. Here's my famous pack of templates.
Ma petite page avec mes enfants le jour de la rentrée scolaire.
My layout with my children the day of back to school.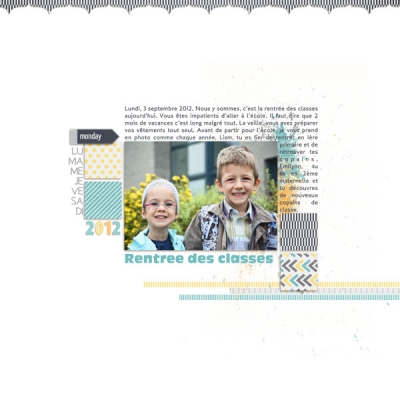 Et voici les superbes pages de mon équipe créative.
And her some beautiful layouts of my creative team.
Je n'ai qu'une chose à vous dire, filez-vous inscrire sur la newsletter de Digital-Créa afin de recevoir ce superbe pack gratuitement.
I have only 1 think to say to you, go to Digital-Crea and subscribe to the newsletter to receive my beautiful pack for free.
Bonne fin de semaine.
See you later.
Scooty.
Bonjour à toutes,
Durant les 3 prochains jours, je vous propose une partie de mes produits à seulement 1.5 €. Rendez-vous sur ma boutique.
During the next 3 days, I offer you some of my products at only 1.5 €. Visit my shop.
Un petit conseil, revenez demain sur mon blog pour une autre surprise.
Bon shopping et à demain.
A little advice, come back tomorrow on my blog for another surprise.
Good shopping and see you tomorrow.
Aujourd'hui, c'est la promo sur les albums. Ils sont à -50% toute la journée.
Today, the sales are on the albums. They are 50% off the entire day.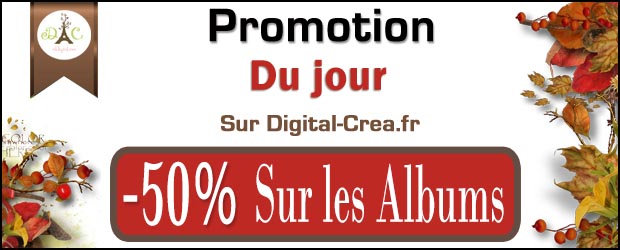 Voici un aperçu de mes albums en promo.
Here a sneak peak of my albums on sales.
Et n'oubliez pas que mon nouveau bundle « 7 days » est toujours à 5.00 €. Il ne vous reste plus que 2 jours pour en profiter.
And don't forget that my new bundle « 7 days » is always at 5.00 €. Only 2 days to enjoy this sale.

Bon samedi !
Good saturday !